La mort de David Godrie
David Godrie, militar belga, humanitario, amigo, maestro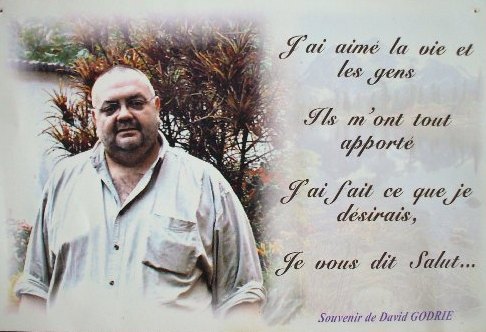 Falleció en Kisangani el 29 de abril del 2003.
David Godrie fue quien me presento Kisangani, un excelente ser humano. Diría Mario, una fuerza de la naturaleza.
Buen profesional, buen militar. Comprometido con el deminaje humanitario abandono su cómoda vida en Bélgica para contribuir en la formación del equipo congoles
Estuvo siempre en la primera línea, neutralizando minas, uxos, trazando planes, pero por sobre todo, enseñando.
Compartimos con el y su inseparable amigo John Kirby muchos buenos momentos, muchas Primus en la Terrase Victoire, muchos momentos difíciles y peligrosos en el medio de esa zona inicialmente controlada por los rebeldes y frente de sangrientas batallas.
Mucho mas que mi Conseiller Technique, David fue un amigo y un verdadero Maestro.
La mañana del 29 de Abril David se rebelo contra la malaria que lo sacudía y decidió ir a supervisar el trabajo en los campos minados alrededor de Kisangani. No lo logro.
Lo despedimos con una larga caravana de autos de las ONGs, bicicletas (tolekistas), amigos a pie. Todo a lo largo de la ruta desde Kisangani hasta el aeropuerto los carteles de "DANGER MINES" nos recordaban todo lo hecho y todo lo que quedaba por hacer.

El Comunicado de Handicap Internacional

Tragic death of our colleague David Godrie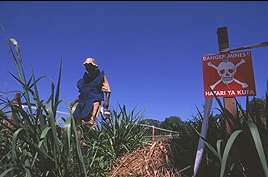 It is with regret and sadness that Handicap International Belgium has learned of the sudden and tragic death of his colleague David Godrie, senior technical advisor of the demining project in Kisangani, DRC.
David passed away in the early morning of April 29.
All employees of Handicap International Belgium express their deepest sympathy and regret to his wife, his two sons, his family and friends at this difficult time. We will ensure that the family is supported by Handicap International Belgium during this sad period.
David had worked in the demining project of Handicap International in Kisangani, and will be remembered by his colleagues as a motivated and enthusiastic person who worked passionately to help the local population of Kisangani to live in a safer environment. We are proud to have had David as one of our colleagues. His death will leave an emptiness amongst those who knew him closely.
Décès inopiné de notre collaborateur David Godrie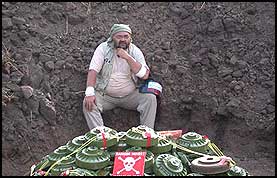 Handicap International a été profondément bouleversé par le décès inopiné de son collaborateur David Godrie, conseiller technique au service de déminage à Kisangani.
David est décédé ce 29 avril tôt le matin, à la suite d'un malaise à domicile.
Les membres de Handicap International souhaitent témoigner leur profonde sympathie à l'épouse de David, ses deux enfants, sa famille et amis en cette période pénible et douloureuse.

David travaillait dans un projet de déminage de Handicap International à Kisangani. Ses collègues reconnaissaient en lui le conseiller motivé et enjoué qui s'est toujours engagé corps et âme pour permettre à la population locale de vivre dans un environnement sans mine. Handicap International Belgium est fière d'avoir pu compter David parmi ses collaborateurs. Sa disparition laisse un vide derrière lui pour tous ceux qui l'ont connu.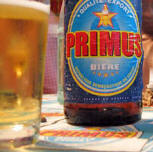 La cerveza de David que tomabamos en la Terrasa de Kisangani escuchando caer los obuses